Oriental Pavilion
Lot P104, 1st Floor, Jaya 33,
Jalan Semangat, Section 13,
Petaling Jaya
Tel : 03- 7956 9288
BUSINESS HOURS: Mondays to Saturdays 11.00 am – 3.00 pm and 6.00 pm – 11.00 pm
Sundays & Public Holidays 10.00 am – 3.00 pm and 6.00 pm – 11.00 pm
Seating Capacity : 700 pax
On Going Promotion for Now!!!
ORIENTAL BANQUET
16, Jalan 19/1, Section 19, 46200 Petaling Jaya
Tel: 03-7957 8488
Sundays & Public Holidays Shark's Fin Brunch Buffet
Indulge in juicy & steaming hot Whole Golden Roast Pig, Shark's Fin, Lobster, Peking Duck, Salmon Sashimi & a wide buffet selection of specialty dishes.
RM 39++ per pax / RM 49++ per pax
or
Royal Ancient Recipe Golden Treasures Casserole (Poon Choy)
Ingredients: King Prawn, Stuffed Threadfin, Mushroom, Fish Maw, Pork Trotter, Phoenix Chicken Feet, Roast Duck, Kampung Chicken, Gluten, Shank's Tendon, Lingzhi Mushroom, Dried Oyster, Broccoli, Cauliflower, Sea Clam.
RM 388++ per casserole
Tel: Oriental Banquet:03-79578488 and Shark Fin House: 21439966
In 2000, The Oriental Group of Restaurants started operations with its first restaurant, The Oriental in Jaya Shopping Centre, Section 14, PJ. To date, the Group also operates Noble House & Noble Banquet, The Ming Room in Bangsar Shopping Centre, Maju Palace at the Maju Junction Mall and Oriental Pavilion at Jaya 33, PJ (renamed from The Oriental, after relocating from Jaya Shopping Centre). In 2009, the group has introduced Shark Fin House as its latest concept restaurant in Jalan Imbi, KL and Oriental Banquet in Section 19, PJ. Our next restaurant opens in January 2011 – The Han Room in The Gardens Mall.
Since the opening of the first restaurant in November 2000, the fast growing restaurant group with a premium reputation, specializing in Fine Cantonese Cuisine, has established itself to be the top restaurant in each of the areas it operates. Patrons of the restaurants are given a different dimension to savoring the traditional Chinese fare. The infusion of artistic touches during food presentation and the use of the freshest ingredients have created a new wave in the restaurant industry. With this continuous effort, patrons can enjoy food that is distinctive in taste and an ambience which is a feast for the senses.
The Oriental's flagship outlet, formerly known as 'The Oriental'. Renamed as 'Oriental Pavilion' after relocating from Jaya Shopping Centre. Voted as one of Asia's Finest Chinese Restaurants by The Miele Guide.
CUISINE:
Specializes in fine Cantonese cuisine with a modern twist and serving PJ's most popular dim sum for lunch. Popular specialties of Oriental Pavilion includes Peking Duck, Double Boiled Coral Shark's Fin in Shark's Bone Soup, Braised Imperial Beancurd with Spinach, Pan-Fried Cod Fish with Pomelo Sauce, Charcoal Grilled Pork Ribs, BBQ Pork Meat with Honey and Fresh Water Prawns with 'Hor Fun' in Superior Prawn Soup and of course our special value promotional menus highlighting our specialties!
AMBIENCE:
The extraordinary Restaurant & Banquet Hall was designed by the renowned ID Team - RYO. Uber-Cool yet traditional, just like the cuisine served. The restaurant and banquet hall boast a grand setting that thrills the senses and enhances your dining experience. Patrons can choose from eight private rooms to a banquet hall that accommodates 600 pax. There is a car park for 1000 cars and car jockey service to provide extra convenience for customers.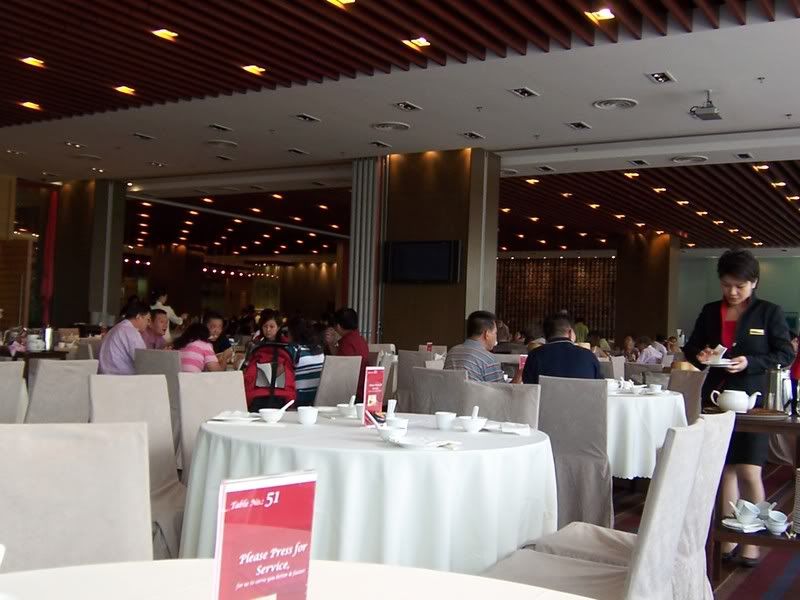 This was an exceptional wonderful dinner celebration organised by one of my best friend and it was a treat from him.
Steamed Scallop, tofu and egg
Grilled Stuffed Pork
Deep Fried Soft Shell Crab
Claypot Lobster with Ginger Onion
Great Services
Fish Head Soup
Roasted Spring Chicken with Stuffing
Quality ingredient in the stuffed spring chicken
Stir-fried Kai lan
Charcoal Flamed Roasted Lamb of Rack
Charcoal Flamed Claypot Rice with Fresh Water Prawn
Double boiled Hasma in Snow Pear