Zizzi Ristorante . Paddington Station London
Zizzi is chain of classic Italian restaurants serving pizza and pasta, offering good italian food in stylish surroundings at very reasonable price. All pizzas are cooked in wood burning ovens.
Zizzi (Paddington) Restaurant
17 Sheldon Square, Paddington,
London, W2 6EP
Tel: 020 7286 4770
Their first restaurant opened in Chiswick (which means cheese farm in Old English), 1999, and since then they've been getting better and better with age. Now they've opened more than 100 restaurants across the country.
The two inspired Calzon'Pizzas (half pizza, half Calzone and totally unique to Zizzi), the Spiedini di Gamberi (juicy oven baked prawns nestled on top of a summery salsary salad), and the Rustica Primavera are now available on a wholemeal base. Gluten free pastas also available here and option for wholemeal pizza basses. Zizzi just got that little bit healthier and a hell of a lot tastier. The designs of their menus are inspired by the Fresh Talent artists that won the 'Deliciously Stylish' competition earlier this year. With five brand new designs, we believe that not only are our menus the tastiest out there, they're also the most beautiful.
Wooden Wall decoration

Sicilian Lemon, GBP$2.65
Menabrea, GBP$4.00
Coke, GBP$2.10
Rustica Funghi, GBP$9.90
Crispy thin pizza crust top with some light and healthy ingredients; mushroom, tomato sauce and cheese.
Rustica Primaver, GBP$10.95
Wholemeal pizza based top with mushroom, artichoke, tomato, cheese and pesto sauce...love the thin crust and tasted really good!
Chitarra all Pes, GBP$12.15
Thumbs up for this as well!
2 x Fettucine Carbonara, GBP$18.30
Nicely flavor creamy sauce and al-dente fettucine top with fragrantly good bacon.
Total paid for Dinner, GBP$60.05
Walking route to Sheldon Square through Paddington Station departure road.....
Paddington Station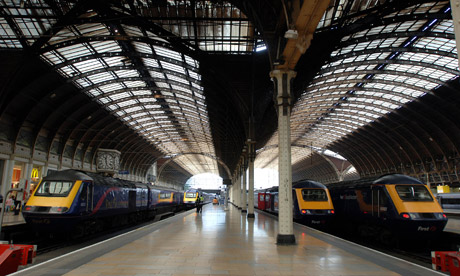 London W2 1HQ
Open 24 hours a day, 7 days a week
Station enquiries 08457 11 41 41
Coordinates: 51°31′02″N 0°10′39″W / 51.5173°N 0.1774°W / 51.5173; -0.1774
Paddington railway station, also known as London Paddington, is a central London railway terminus and London Underground complex. The site is an historic one, having served as the London terminus of the Great Western Railway and its successors since 1838. Much of the current mainline station dates from 1854, and was designed by Isambard Kingdom Brunel. The site was first served by Underground trains in 1863, and was the original western terminus of the Metropolitan Railway, the world's first underground railway. The complex has recently been modernised, and now has an additional role as the London terminal for the dedicated Heathrow Express airport service. Paddington is in Travelcard Zone 1. The mainline station's most important long-distance destinations are Bristol, Cheltenham Spa, Cardiff, Exeter, Penzance, Plymouth and Swansea
Everydayfoodilove.co/
www.foodloh.com
team
: Thank you for reading our posts. Our team media coverage touches mostly on lifestyle events and focuses on happening scenes in Kuala Lumpur and Kota Kinabalu. Invite us for food reviews, travel and hotel reviews, KL clubbing reviews and product launches. Our other interests include the movies, technology and photography. Subscribe to my
facebook page
. Contact us via my email at:
[email protected]
or
[email protected]