Yin Yoga Workshop by Victor Chng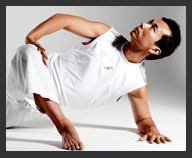 To register for this workshop, please contact Yammie 012-3222018 or
[email protected]
or Swee Seng 016-2372433 skype: mizunaru or
[email protected]
for inquiry.
Early bird before 15th October 2011 - 1 session RM170/ 2 session RM320/ 3 session RM450
Register After 15th October 2011 -1 session RM180/ 2 session RM340/ 3 session RM480
The Dancecity
149-4 and 151-4,
Jalan Lancang, Taman Seri Bahtera,
56100 Kuala Lumpur, Malaysia
11 November 2011 - 6.30p.m till 9.00p.m
Greater Hips and Lower Back Flexibility as the Foundation for Advancing Yoga Practice
We all try to improve our flexibility through the course of practicing yoga asana. However, as we struggle through the poses, many end up being injured. Yin Yoga is the way to help you gain more flexibility is a short time while being keeping you safe in the practice. The foundation series helps to open up the toughest part of the body. This is primarily the entire pelvic region which included the hips and lower back. When this area has more movement, you will advance in your asana naturally without force. Attend this workshop to know the secret towards developing flexibility for an efficient and safe yoga journey.
13 November 2011 -9.30a.m till 12.00p.m
Understanding the connection between Meridians and Yin Yoga
Yin Yoga Meridian Series is a unique practice that addresses the using of energetic pattern in the body to enhance the "chi" flow and releases blockages or stagnation. In this practice, you will be given information of the different qualities of "Chi" in the body and how it works through the meridians. You will also be given a comparison between traditional chinese medicine and ayurveda view of the energy body. Experience a deeper flow within the body while remaining in silence.
13 November 2011 -2.00p.m a.m till 4.30p.m
Tao of Yoga - The Path of Integration - Developing greater strength and flexibility in the practice
All arise yang energy comes from the deepest source of yin energy. The nature of Tao is to understand, develop and sustain this cycle within the body. In this practice, you will experience a moderately advance yin practice that efficiently opens up the body for the preparation of yang. In one practice, you will gain both strength and flexibility.
About Victor Chng
Victor met Paul Grilley – the founder of Yin Yoga in 2004 Dec and has completed a teacher training with Paul in Yin Yoga and Anatomy for Yoga. He continues to study with Paul and Sarah Power, completing a residential yoga teacher training program with them at San Francisco in Feb 2007.Victor is greatly indebted to his teachers for giving him permission to teachYin Yoga, a path which he is continuously exploring with his own intuitive knowledge. You may find out more about Victor at www.yinyogainasia.com. Victor has also been invited to teach in 2011Asia Yoga Conference in Hong Kong on 9 and 11 Jun 2011